Sunday's ride highlighted the importance of improving Michigan bicycle laws
This past Sunday, dozens of Michigan bicyclists rode 16 miles, paying tribute to Jill Byelich, a young mother of two killed by a car while riding near DeWitt, Michigan. The cyclists paid their respects at a memorial that included a photo of Jill as well as a ghost bike representing both her and others who have been killed while riding their bicycles on Michigan roads. The Ride of Silence culminated in a rally at the Capitol in Lansing, where participants voiced their support of legislation that would enhance current Michigan bicycle laws by adding more protections for cyclists on the road.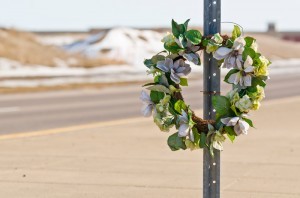 Jill was wearing a helmet and reflective vest and by all accounts, was following the rules of the road. Yet, she was still struck by an inattentive motorist.
With the Michigan Senate unanimously passing Nathan's Law (a bill requiring driver's education courses to include laws regarding bicycles and motorcycles) late last week, Michigan is heading in the right direction, but more can be done. As we've mentioned before, Michigan does not have a safe passing lawon the books or even a vulnerable user statute. A safe passing law would mandate that motorists passing bicyclists on the road leave a minimum amount of space between their vehicle and the cyclist. With California's passage of their three-foot passing law, Michigan is now one of seven states without such a law. The League of Michigan Cyclists has proposed legislation that would mandate least five feet of passing space, but it has yet to be introduced.
Two House Bills would provide criminal penalties for motorists who injure or kill vulnerable roadway users. HB 4792 would make "reckless driving causing death to vulnerable roadway user[s]" a Class C felony, subject to a maximum of 15 years imprisonment. HB 5080 would amend the Michigan vehicle code to include vulnerable roadway users: pedestrians, bicyclists, and those in wheelchairs. Further, the bill provides that causing injury to such roadway users is a misdemeanor, and causing the death of these individuals is felony subject to a maximum of 15 years imprisonment and/or a $7,500 fine. Unfortunately, there has been no action on either one of these bills since October 16, 2013.
It is clear that with the unanimous passage of Nathan's Law in both the Michigan House and Senate, keeping the roads safe for everyone is a worthwhile goal. Capitalizing on the energy generated by Nathan's Law, the Michigan legislature should act quickly to pass these bills to protect the cycling public. These laws, coupled with the proper education and enforcement, will go a long way to preventing senseless tragedies like the one that claimed Jill Byelich's life.