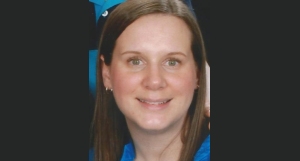 Distracted driver in fatal bike accident in Clinton County that claimed the life of Jill Byelich was sentenced
Distracted driving kills – just ask the family of Jill Byelich. Bicyclist Jill Byelich was following the law as she rode on a Dewitt road on September 2, 2014: she was riding in the right side of the road, wearing a reflective vest, and wearing her bike helmet. Mitzi Nelson, on the other hand, was not, as she was driving while distracted by her phone. As a result, Nelson struck and killed Jill, a young mother of two, with her vehicle.
Yesterday, Clinton County District Court Judge Stewart McDonald sentenced Nelson (who pleaded no contest) to two years of probation and at least 90 days in jail, in addition to speaking to 20 driver's education classes about the dangers and risks of distracted driving, and performing 150 hours of community service. Finally, Nelson will not be able to own or use a cell phone or other portable communications device during the time she spends on probation.
This terrible tragedy is yet another example of the dangers of driving while distracted, not only on Michigan roads, but everywhere. When people are not completely focused on driving and their surroundings, they put themselves and other motorists, pedestrians, and bicyclists at risk.
Some of the social media comments about this Clinton County bicycle accident have attempted to place blame on Jill, even going so far as to imply that bicyclists have no business being on the roads. Take this one, for example:
Cyclists need to ride on bike paths and trails, NOT the road. When you're on a bike you are of no competition with a vehicle. You cannot and should not assume drivers are looking out for you!! These cyclists ride with their back to traffic. How many have to be injured or killed before this stops?
One thing must be made clear: in Michigan, cyclists have every right to ride on the road. While there are rules that bicyclists must follow in order to safely (and legally) use the road, motorists have a duty to operate their vehicles in a safe, reasonable, and careful manner – which means limiting distractions.
While preventing Nelson from owning or using a cell phone or other portable communications device for two years may seem to be an odd punishment, it is quite fitting in this case, and should serve as a lesson to others. Having and using a cell phone is a privilege, not a right, and if abused (as it was here), can and should be taken away. Hopefully the experiences Nelson shares while speaking to driver's education classes in Michigan will deter future drivers from driving while distracted, and, in the end, this tragedy will make motorists think twice before using their cell phones in any capacity while driving an automobile.
Would this have happened if laws protecting vulnerable roadway users – pedestrians, bicyclists, and those in wheelchairs – were in place? Unfortunately, these laws do not exist in Michigan. Bills aimed at addressing this need, including the imposition of criminal penalties for motorists who kill bicyclists like Jill, have been proposed, but never adopted by the Michigan legislature. Perhaps these laws will become reality one day – sooner rather than later.
Still not convinced about how truly dangerous distracted driving can be? AAA performed a study showing how easy it is to get into an accident if driving while distracted. Watch the video below: