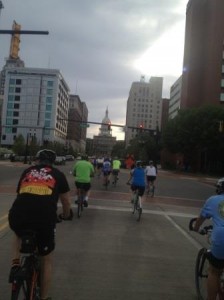 The 2014 Ride of Silence will take place on Wednesday, May 21.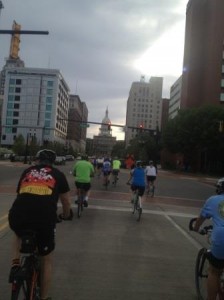 As you may recall, May 21, 2014 is an important date: it is this year's Lucinda Means Bicycle Advocacy Day. It also happens to coincide with the 2014 Ride of Silence, which we have also discussed in the past. The Ride of Silence honors those who have been injured and killed while cycling on public roads not only in their local communities, but worldwide. It is a slow-paced ride with cyclists participating in areas across the globe. All cyclists are welcome to join the rides and are asked to wear helmets, ride no faster than 12 miles per hour, and remain silent through the duration of the ride to honor those injured or killed while riding a bicycle on public roadways.
Rides will take place in the following (reported) locations throughout Michigan:
Adrian
Ann Arbor/Ypsilanti
Battle Creek
Boyne City
Detroit
East Lansing
Flint
Grand Rapids
Grosse Pointe
Harbor Springs
Menominee
Muskegon
Port Huron
Portage/Kalamazoo
Spring Lake
Traverse City
Westland
For more information about this year's rides, click here. In 2013, fifteen cities all over Michigan held Rides of Silence, with 741 riders participating. The ride held in East Lansing last year took place two days after a 69 year old cyclist was killed by a hit and run driver; the route the cyclists took went through the location of the incident.
In Illinois, rides will take place in these locations:
Arlington Heights
Bartlett
Champaign
Evanston
O'Fallon
Peoria
Woodstock-McHenry County
For additional details about the rides at these locations, click here.
These are two very important events that seek to bring awareness to and advocate for the rights of cyclists not only in Michigan, but across the nation and throughout the globe. If you are available and able, consider advocating by day, and paying tribute by night.