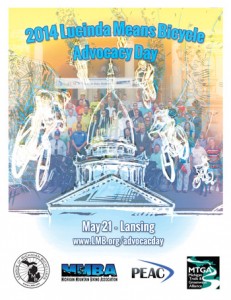 Lucinda Means Bicycle Advocacy Day Events will take place at the State Capitol on May 21, 2014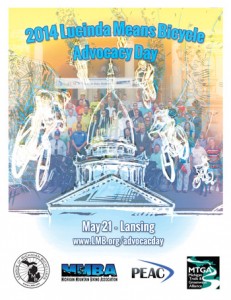 Wednesday, May 21, 2014 will be a special day, as it is the Lucinda Means Bicycle Advocacy Day. In honor of this day, events will be held at the State Capitol building in Lansing. Sponsored by the League of Michigan Bicyclists, Michigan Trails and Greenways Alliance, Michigan Mountain Biking Association, and PEAC (Programs to Educate All Cyclists), volunteers will meet with legislators to discuss key policy issues important to Michigan bicyclists, including but certainly not limited to the following:
protecting vulnerable roadway users through the establishment of enhanced penalties for injuring or killing cyclists,
establishing a standard for passing cyclists safely on Michigan roads,
including bicycle awareness in Michigan driver's education programs,
establishing speed limits that take bicyclists and pedestrians into consideration, and
promoting sustainable transportation funding for Michigan.
After lunch, an optional afternoon bike ride is planned.
The registration fee is $12, which includes lunch. If you do not have experience communicating with legislators and policy makers, don't worry – the League of Michigan Bicyclists has prepared a number of resources, including an "Advocacy Day Primer" and a number of issue papers which will help you get ready. For more information and to register for Advocacy Day, please visit the League of Michigan Bicyclists' website.
This year's Lucinda Means Bicycle Advocacy Day happens to coincide with the 2014 Ride of Silence, which we will cover in a future post.