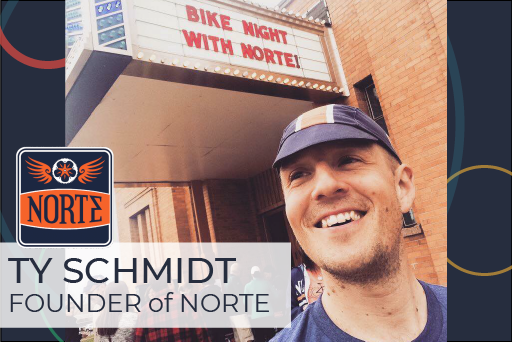 Amongst miles of cherry trees and endless wineries, Traverse City is home to Norte, a youth cycling group led by Ty Schmidt. After recognizing the lack of kids walking or biking to school, and the long line of cars waiting to drop off or pick up kids, Ty and his wife Johanna began biking with their kids to and from school. Soon, they invited others in their neighborhood to join. This group grew into what eventually became Norte.
Norte was started with the belief that bicycles are a kid's first opportunity to build confidence and independence. Aimed at encouraging healthy lifestyles, community involvement, and leadership, Norte is a nonprofit that focuses on making an impact locally and offers various programs and events for community kids to get involved.
Notre's programs include advocating for Safe Routes to Schools, encouraging and empowering students to actively get themselves to school, Pro Walk/Pro Bike Advocacy – including sending students to the League of Michigan Bicyclists Advocacy Day in Lansing, youth mountain bike club, youth leadership council, and actually taking balance bikes to elementary schools to teach young children the joy of cycling and help build skills to advance to riding traditional bicycles.
In addition, Norte teaches people of all ages that being an advocate for bicycle and pedestrian safety and infrastructure can be a whole lot of fun!
As physical therapists, Ty and Johanna have a deep understanding of the value of healthy lifestyles. They used their passion and knowledge to build connections and promote healthy lifestyles that integrate perfectly with school schedules. Norte has built incredible community connections, empowering young individuals to get involved with their clubs, camps, events, and advocacy. Norte is also a community partner of Lids for Kids – the annual bicycle helmet giveaway and safety event Michigan Bicycle Law also sponsors annually. 
Ty serves as executive director of Norte and continues to grow the organization's impact. Since its founding in 2013, Norte has proven to be an asset to the Traverse City community statement that continues to grow.