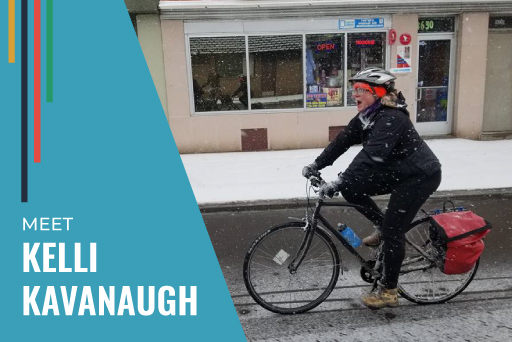 Detroit's history has made it the Motor City, but thanks to the efforts of numerous people, it is also becoming known as Detroit Bike City. Without question, one of Detroit's bicycle pioneers is Kelli Kavanaugh!
Beginning in 2005, Kelli helped organize rides in the city including Tour de Troit, an annual biking event, which now has over 5,000 riders. Through Tour de Troit, Kelli allowed people to explore and discover neighborhoods that they wouldn't have otherwise known exist, and later decided to take it a step further. In 2008, Kelli and her friend Karen opened Wheelhouse Detroit, a bike shop on the Detroit riverfront, offering retail, service, rentals, and guided bike tours throughout the City.
Kelli is now the sole owner of Wheelhouse Detroit. The tours have expanded to offer almost 20 options, including tours that feature Detroit's architecture, public art, deep music heritage, auto industry heritage, sports, haunted tours, and more. These tours are a perfect way to explore the community and welcoming to all, regardless of experience level or interests.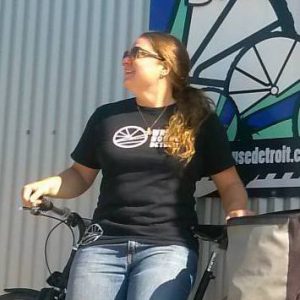 As the city develops, Kelli continues to build community relations through her work and experience, acting as an advocate for bike infrastructure and safety. In the off-season, she uses her time to connect with more local small businesses and encourage bike-friendly additions, such as bike racks in front of a retail shop.
Kelli serves as an example that one can find a career that is also truly one's passion. Through her work, she encourages those who might not otherwise get on a bike about the joy of cycling, while teaching Detroiters and visitors about the many wonderful things that Motor City has to offer.
Kelli's love for bikes and Detroit isn't a one-way street – the feeling is mutual; Detroit and Michigan's cycling community are lucky to have Kelli. She truly helps makes Detroit special place and for 15 years has made biking part of its culture.