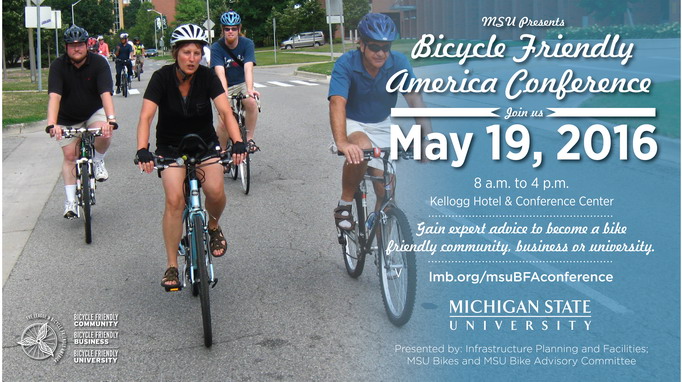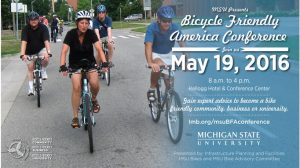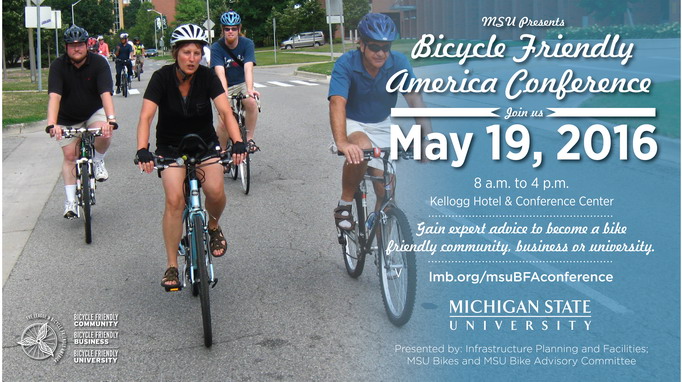 May is National Bike Month, which means it's jam-packed with bicycle-related events.
One of these events is the Bicycle Friendly America Conference, presented by Michigan State University. The conference, slated for Thursday, May 19, is designed to help universities, businesses and communities become bicycle friendly.
Bike Law Michigan is proud to be a sponsor of this 2016 conference, being held at the Kellogg Hotel & Conference Center on the MSU campus.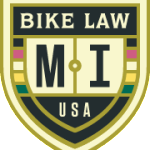 Last year, MSU was recognized as a silver level Bicycle Friendly University, joining an elite group of 28 other silver level and 126 other bicycle friendly schools that have achieved this recognition from the League of American Bicyclists. The Bicycle Friendly University levels range from bronze to platinum.
The Bicycle Friendly America Conference will offer both general and break-out sessions that provide information on how to become a bicycle friendly community, university or business. The program includes presenters from the League of American Bicyclists, League of Michigan Bicyclists, State of Michigan, MSU, other universities, and local communities and businesses.

Another noteworthy event is the Lucinda Means Bicycle Advocacy Day, being held May 25 at the State Capitol in Lansing.
The League of Michigan Bicyclists, Michigan Trails and Greenways Alliance, Michigan Mountain Biking Association and Programs to Educate All Cyclists (PEAC) have come together for this annual event, to help educate state legislators on key policy issues that facilitate a bicycle-friendly Michigan.
The current legislative priorities are:
Protecting vulnerable roadway users by establishing enhanced penalties for injuring or killing cyclists.
Establishing a standard for safe passing of bicyclists on Michigan roads.
Assuring liability protection for persons who contract with a trail entity to provide construction, operation, or maintenance of a trail.
Preventing the Raid on Natural Resources Trust Fund dollars available for trails projects.
Promoting sustainable transportation funding for Michigan.
Defending bicyclists rights on the roads.
Speaking up for speed limit standards that take the safety of bicyclists and pedestrians into consideration.
Advocacy Day events begin at 8 a.m. with a bike rally that leaves Municipal Park. Meetings with state representatives and senators begin at 10 a.m. After legislative visits and lunch on the Capitol grounds, there will be an optional afternoon bike ride.