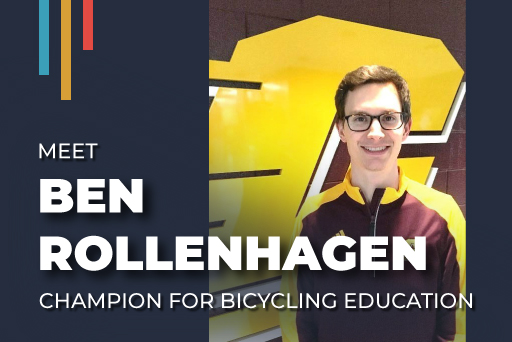 Ben Rollenhagen has worn many hats in the bicycling community, and many of his contributions will continue to have lasting impact on youth training and empowerment through bicycling. Having held many leadership roles in organizing Michigan bike races, teams, and developing a comprehensive bicycling education curriculum called Riding for Focus, Ben's work has resulted in significant positive impact that continues to expand.
While attending Central Michigan University (CMU) in 2004, Ben began racing while earning his Bachelor of Science in Education degree. He later returned to earn his Master's in Physical Education Pedagogy and is currently working towards his doctorate in educational technology while teaching instructional techniques and sports skills assessment at CMU.
Since earning his bachelor's degree, he has been an active cyclist in cyclocross, mountain biking, and got involved in race organizing and promotion with the Tri-City Cyclists' team. He was the director of the two largest road cycling races in Michigan for seven years, co-directed additional Michigan races, and was a founding member of the Revolution Racing Cycling Team.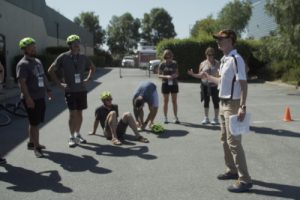 Ben Rollenhagen has been slowly chipping away at his goal to become the nation's leading bicycling education expert. It's a huge passion of his to get more kids on bikes, as he has personally seen how it improves the lives of thousands of riders. As part of this pursuit, he became a League Certified Instructor through the League of American Bicyclists and a trainer through the NHTSA/SHAPE America's "Bikology" curriculum. Through these programs he has hosted many training sessions and presentations and has gotten involved in numerous organizations. One of these organizations is known as the Outride Foundation, once called the Specialized Foundation, that has a mission to help students use cycling to reduce stress, anxiety, and ADHD symptoms through data-driven programs.
Developing the Riding for Focus Program
With Ben's background in physical education curriculums and passion for bicycling, he co-developed a bicycling education program within Outride called Riding for Focus. This program facilitates the widespread establishment of Outride's mission in a structured, consistent, and educated manner throughout schools across the United States and internationally.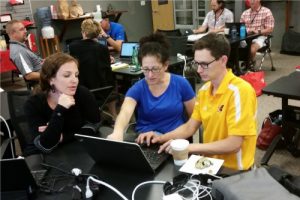 The Riding for Focus program consists of 12 lessons, called Road Readiness, that are designed to be taught in schools by easily integrating in the Physical Education curriculum. Teachers go through comprehensive training before bringing this program to their school to ensure they have the tools needed for it to be successful and sustainable. Students are taught bicycle road safety and equipment care, while having the opportunity to get a minimum of 20 minutes of biking in 3 days a week for 6 weeks. The curriculum was specifically designed for students to demonstrate proficiency in validated cycling safety and riding skills, all to prepare them to safely and confidently control a bicycle on a path or roadway.
Riding for Focus – A Program of Success!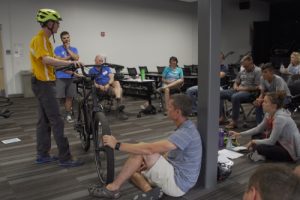 With a mission of improving social, emotional, cognitive, and physical health in students, the Riding for Focus program has been a huge success! There are currently 9 Riding for Focus programs in Michigan, and over 200 total programs impacting 50,000 youth across 44 states in the US and Canada. During the 2018-2019 academic year, 90% of teaches reported improvements in participating students' classroom behavior, confidence, and physical health since starting the program. Using Biometric Assessment Technology, or the BAT, teachers can monitor students' physical outputs, cognitive and emotional conditions, and use data to understand how the program impacts students on a daily basis. This tool, along with various research organization and university partnerships, is helping to improve understanding of the impact of physical health on cognitive health and ADHD.
Ben's work has opened doors for students and teachers around the world to implement healthy practices that are beneficial for their education and in creating healthy habits. He continues to build the Riding for Focus bicycling education program each year and leads the training of new teachers every summer. During the summer of 2020, Ben has trained over 80 additional teachers and has been able to adjust to virtual training so that the program can continue to expand and provide benefits to more students than ever! Ben Rollenhagen has proven to be an important representative of the bicycle community not only as an individual cyclist, but in laying the foundation for a stronger, healthier future in biking.
Learn more about Outride's work, apply for a grant for your school, or support an Outride program to see Ben's work in action!