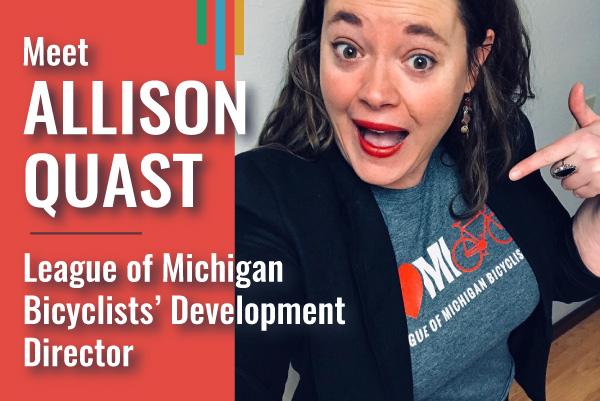 Allison Quast, a longtime bicycle community member, has recently stepped into the roll of Development Director at the League of Michigan Bicyclists (LMB). It seems appropriate that Allison began working when the LMB changed its mission statement to "improve life through bicycling" since that is exactly what Allison has been doing for virtually her entire life.
The Journey that Led Allison to Her New Role
Motorless Motion is a bike shop in downtown Mount Pleasant, Michigan, that was previously owned and operated by Terry Quast, Allison's father and her uncle – Chuck Quast. Allison grew up surrounded by active cyclists who taught her the things that are important to most people in the bicycling community. Spending time at the shop as a child, surrounded by cyclists of every form means she understands that cycling is more than just an activity. It always has an underling goal: Clearing your mind, getting you from one place to another, providing you an adrenaline rush, creating friendships and a sense of community. Cycling is far more than just putting your body on a bike.
Eventually, Allison took over ownership of the shop and continued to be an active cyclist and community member. In fact, she eventually became Mayor of the City of Mount Pleasant, after years of serving on city boards. Over the years she worked on development of the non-motorized trail from Mt. Pleasant to Shepherd; helped plan the Tour de Mont Pleasant – which included a criterium, a time trial, and a point to point race; and advocated for the adoption of a regional non-motorized plan – including the installation of over 20 miles of bike lanes in the City of Mt. Pleasant.
In 2017, a long-time family friend, Mike Seaman, was tragically killed by a driver while riding his bike. Allison knew that working to make roads safer for cyclists was the best way to honor Mike's memory and prevent other community members from experiencing the pain of losing a friend. She directed donations to the League of Michigan Bicyclists, as she knew about their work pushing for action on laws and policies to protect cyclists.
Promoting Safety with the League of Michigan Bicyclists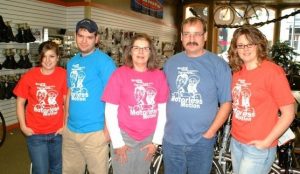 Allison continued her ownership and management of Motorless Motion until 2019 when her family sold their shop to long time Mechanic Manager, Mike Ring. Now, in the role of Development Director at LMB, she is actively working full-time to continue the trusted work of the organization and instill hope, awareness, and safety within the bicycle community.
In April of 2020, another tragedy struck when Marc Van Otteren was struck by a car while cycling. Allison has set up a fund through the League of Michigan Bicyclists in his memory to ensure his memory is honored effectively through an organization committed to holding drivers accountable and end distracted driving. To see more on this fund or submit a donation, click here.
Allison and LMB are committed to improving life through bicycling. They recognize that bicycling makes the environment, your mental health, friendship, the economy, and every day better. If you agree, consider becoming a member today.