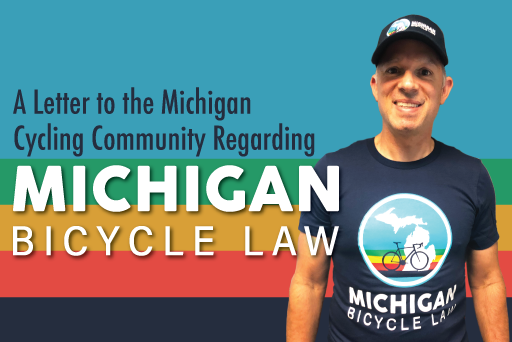 Dear Michigan Cyclists,
For many years I have represented cyclists in the courtroom and volunteered my time for causes that promote cycling in Michigan. During that time, my law firm has consistently supported me and agreed to contribute time and money to Michigan cycling events, the sponsorship of teams, and co-hosted numerous events that give bike helmets (and bicycles) to kids.
Approximately five years ago, I was asked to join a new group of lawyers that were starting a national network of lawyers who represent cyclists called the Bike Law Network. I valued being part of this group of bicycle lawyers but have chosen to part ways with them in order to start a brand focused specifically on the rights of cyclists in Michigan, called Michigan Bicycle Law.
By devoting all of my individual resources, as well as those of my law firm, to a Michigan-specific brand, I believe I can have a greater impact on the Michigan cycling community. The advocacy work needed for Michigan cyclists must focus on the Michigan Legislature and local governments. The cyclists that need my representation are all in Michigan and the events and races my law firm and I sponsor are in Michigan. Therefore, it only makes sense that all our resources be exclusively focused on Michigan.
The lawyers in the Bike Law Network are a good group of committed lawyers. I will not hesitate to refer cyclists to them should they need help from a lawyer in another state. Although I will miss the camaraderie that came with being part of the network and am hopeful I will be able to maintain many of the good friendships I have made through the network, I am excited about building a brand specific to Michigan.
Please don't hesitate to contact me if there is ever anything I can do for you, your bicycle club, or local bicycle community.
Bryan Waldman