The Sinas Dramis Law Firm is proud to announce that it will be giving away free bicycle helmets in Lansing, Michigan for the 13th consecutive year. The "Heads Up For Safety" Bike Helmet Event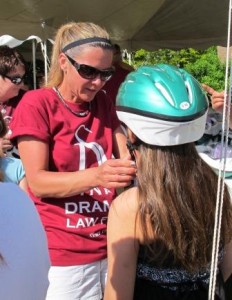 will take place on Saturday, May 16, 2015 from 10:00 am – 1:00 pm at the Marshall Street Fire Station in Lansing! Together with a number of community partners, including Origami Brain Injury Rehabilitation Center and the Michigan Association of Justice, our law firm has given away over 6,000 free bicycle helmets to school aged children in Lansing and surrounding areas. This year, we're happy to announce that we will have an additional sponsor: The Brain Injury Association of Michigan!
Similar to previous years, in addition to receiving free bike helmets, children will have their helmets custom-fitted by trained volunteers. Participants will also be entered into a drawing to win one of a number of bicycles that will be given away at the event. Firemen from the Marshall Fire Station will also be on hand to give tours of the firehouse (including the fire trucks). The CFT-Sinas Dramis Law Bike Racing Team will set up an obstacle course for those who bring their bicycles, and there will also be a station set up for minor bike repairs, courtesy of SPIN Bicycle Shop. Once again, entertainment will be provided by Chip Christy, and this year, Big Lug, the Lansing Lugnuts' mascot, will be there to meet and greet the kids!
As bicycle accident attorneys, we are committed to helping prevent bike-related injuries and believe that wearing a properly-fitted helmet can often prevent or minimize brain and head injuries.
For more information about this year's Heads Up For Safety Bike Helmet Event, please contact Teri Lynne at 517-394-7500. We hope to see you there!
Update – 5/11/15: Bryan Waldman appeared with Tammy Hannah from Origami Brain Injury Rehabilitation to discuss our free Lansing bike helmet event on Fox 47's Morning Blend: