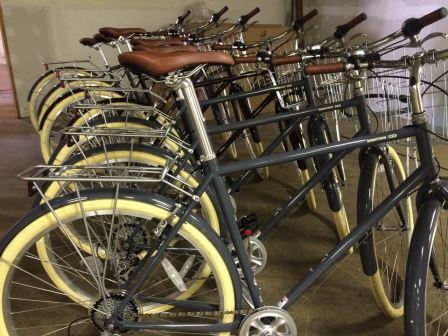 The Spokefly app will connect potential users of the new Grand Rapids bike share
Downtown Grand Rapids will have a working bike share program sooner than projected, thanks to the efforts of The Spoke Folks and an app called Spokefly. The Spoke Folks, a non-profit co-op, will run the privately operated Grand Rapids bike share, connecting bike seekers with available bicycles located around the downtown area – starting today.
The City of Grand Rapids is currently mulling over a previous recommendation for a bike share program costing as much as $2 million. Thanks to private funding, however, people will no longer have to wait until that project is finalized and implemented, as Spokefly Grand Rapids is up and running.
The premise behind the Spokefly Grand Rapids bike share program is simple. Individuals hoping to use a bike for a fixed amount of time (no longer than 24 hours), can use the app to locate a bicycle closest to them. Spokefly users will receive a combination to unlock the bike and pay for the rental in advance; once they do, they're on their way. When the user is finished, they return the bike to a bike rack, lock it, check in, and walk away. It is important for users to understand that helmets are not provided with this program. While cycling is generally a safe activity (particularly where there is bike friendly infrastructure), and while there is no Michigan law requiring that individuals wear helmets, helmet use is recommended.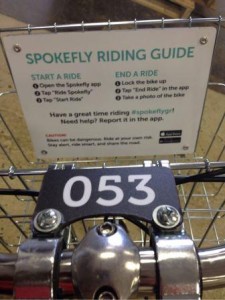 Unlike other bike-share programs with specific docking stations and more high-tech gadgetry, all you need to do to take advantage of Spokefly is a smartphone, the app, and a credit card. There is a flat fee of $1, and then a charge of 15 cents per minute. There are no monthly or annual membership fees, which may draw in users who might not otherwise take advantage of this service.
Approximately 65 bicycles will be available for use upon launch and it's projected that up to 400 bicycles will be spread around the Grand Rapids area come spring time.
As we mentioned before, The Spoke Folks worked hard to make this opportunity a reality. As a nonprofit co-op, The Spoke Folks are focused on making Grand Rapids a great bicycling community by encouraging cycling and helping those who want to ride find the means to do so. In addition to launching the bike share, they have a shop where they help individuals with bike repairs and are also heavily invested in cycling education. Consider making a donation or becoming a volunteer to help support this worthy cause.
The launch of this new Grand Rapid bike share program is just another way the city is becoming even more bicycle friendly. With efforts to improve and increase awareness of bicycles on Grand Rapids roads, the placement of bike lanes throughout downtown Grand Rapids, efforts to keep those bike lanes open for bicyclists only, and the cycling events open to riders of all abilities, the city may soon become a leader for other Michigan cities to follow.