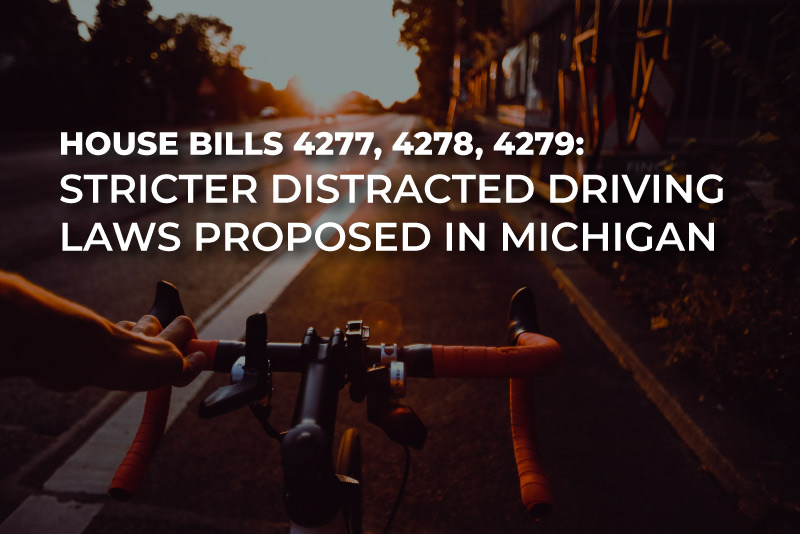 Michigan distracted driving laws are currently some of the weakest in the country, but three bills were recently introduced to the Michigan House of Representatives that seek to change this. Representatives Mari Manoogian, Mike Mueller, and Joe Bellino introduced House Bills 4277, 4278, and 4279 in early 2021 in an effort to decrease distracted driving accidents in Michigan and protect those most vulnerable to the consequences, including bicyclists. These three bills propose increased limitations on cell phone and other mobile device use while driving, and higher penalties for those who still choose to drive distracted.
Current Michigan
 

Distracted Driving Laws

Michigan's current distracted driving laws categorize drivers into three groups: (1) drivers of ordinary motor vehicles, such as an automobile, SUV, or pickup truck, (2) drivers of commercial motor vehicles, and (3) new drivers (specifically those with a level 1 or level 2 graduated driver's license). The majority of drivers fall into the first category, and the only prohibition to mobile device use for this group is outlined in the statute as follows:

"… a person shall not read, manually type, or send a text message on a wireless 2-way communication device that is located in the person's hand or in the person's lap, including a wireless telephone used in cellular telephone service or personal communication service, while operating a motor vehicle that is moving on a highway or street in this state."

In short, current Michigan distracted driving laws only prohibit texting for most drivers. There are no restrictions for the multitude of additional mobile device uses behind the wheel. This makes it incredibly difficult to enforce these laws, and if a driver is caught in violation of texting while driving, the lackluster penalties are minor. A violation is considered a civil infraction punishable by a fine of $100 for first-time offenders and $200 for a second offense. Additionally, the state does not assess any points to a violator's driver's license.
Proposed Distracted Driving Changes in House Bill 4277
In her first State of the State address, Governor Whitmer called for a focus on distracted driving laws in the state's legislature. Since then, multiple bills have been introduced to increase limitations on mobile device use while driving, yet none have passed. In early 2021, at the beginning of the current legislative session, Representative Manoogian introduced House Bill 4277 to continue the fight for stronger distracted driving laws in Michigan.
House Bill 4277 proposes thorough limitations on mobile device use behind the wheel. The bill goes beyond just phone use to include the prohibition and limitations of additional mobile devices. For example, the Bill states that recording or viewing videos, wearing two headphones, and accessing social media accounts while driving is illegal, regardless of device type, and would allow for the enforcement of penalties for those actions.
There are a few exceptions to these rules outlined for certain situations, such as emergencies. These exceptions include:
Calling 911
Using a GPS device (typing in a location is not allowed)
Reading or entering a phone number to make a phone call
Using voice-activated or hands-free software to make a call
First responders are not limited by these rules while on duty
In addition to these strengthened regulations, under House Bill 4278 and 4279, violators would be subject to harsher consequences. For a first-time offender, a judge would be able to inflict a $100 fine or up to 16 hours of community service. For a second-time offender, those would be raised to a $250 fine and/or up to 24 hours of community service. After three offenses, a judge will have the ability to suspend a person's license for up to 90 days if they violate these regulations under this law.
What House Bills 4277, 4278, and 4279 Mean for Michigan Cyclists
Bicyclists and pedestrians are at high risk of being injured or even killed by distracted drivers. According to the National Highway Traffic Safety Administration (NHTSA), pedestrians, cyclists, and other nonoccupants involved in motor vehicle crashes accounted for 20% of all motor vehicle crash fatalities in 2019. Passing House Bills 4277, 4278, and 4279 will not only deter people from using mobile devices behind the wheel but also provide a stronger justice system for those who break these rules.
Cyclists should always follow the rules of the road to ensure they are doing everything they can to be visible and communicative to drivers. However, at the end of the day, if a driver is not paying attention, they aren't going to see a cyclist or others that share the road. Hopefully, this bill will gain support in our state legislature and in turn, decrease Michigan distracted driving instances and better protect cyclists.
Please call or email your State Representative and ask them to support House Bills 4277, 4278, and 4279.