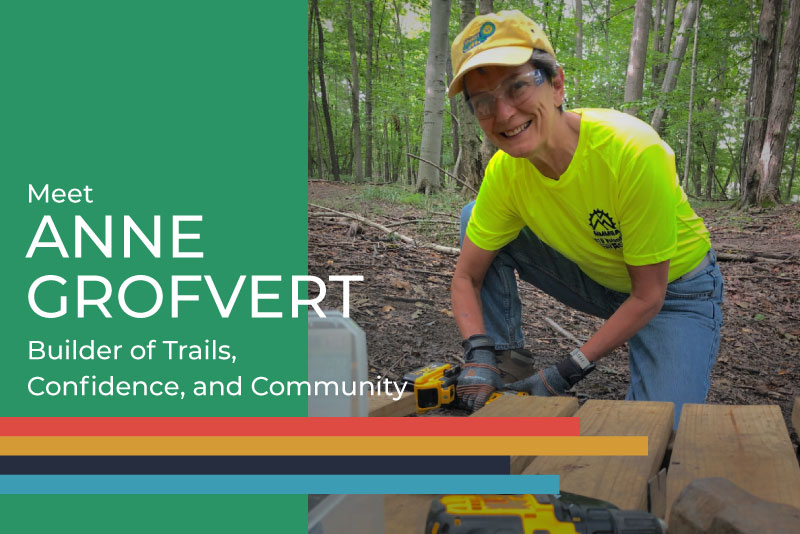 If you've biked the trails around mid-Michigan, you've likely benefited from the work of Anne Grofvert. Not only does she volunteer – building, maintaining, and advocating for trails that we can all enjoy – she is also an active racer, coach, and community builder for Michigan bicyclists.
The Making of Cyclist Anne Grofvert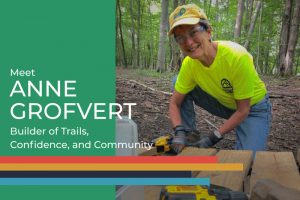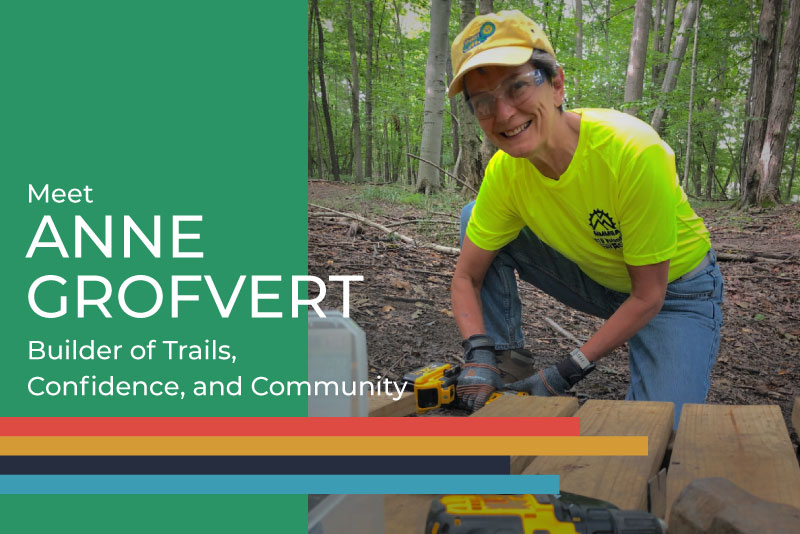 When Anne moved to the Lansing area, exploring tri-county area roads and trails on bike fueled her passion for cycling. Her two-wheeled horizons expanded. She rode the DALMAC a few times and joined friends for several loaded tours. Her first mountain bike, a 1983 Trek 850, opened up singletrack cycling opportunities and used skills she had honed in her younger days riding motocross. Anne's interest flourished and soon she was racing – mountain bikes, road races, and cyclocross. She fell in love with "cross" for its combination of technical skills from mountain biking with the speed and intensity of road racing (plus, a defined time duration has its benefits!). She has raced in several cross nationals as well as National Ultra Endurance series MTB events.
Volunteering on Mid-Michigan Bike Trails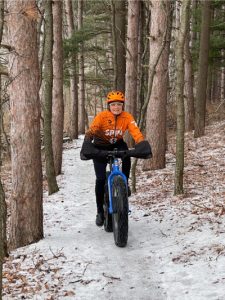 Anne says she is just happy to be in the woods, whether on a bike or working on trails. She has been deeply involved with the Mid-Michigan Mountain Biking Association (MMMBA) since its founding in the early 1990s. Recently, she has helped the organization develop online and on-trail maps of all regional MTB trails as well as organizing MMMBA membership drives and fundraisers. Anne is also the longtime trail coordinator at Burchfield Park, overseeing the development and maintenance of trails that address the needs of users of all ages and abilities.
"Working together with land managers and having good communication with them is critical in having a successful working relationship and continued access to those places we love to ride," says Anne. "It's important to give back via support – whether that's time, materials, or financially – to keep things going."
Typically, the MMMBA holds trail workdays for members to participate in trail maintenance, however, due to restricted gatherings in 2020, Anne instead organized solo projects for volunteers. She also enlisted her husband and together they focused on rebuilding bridges and "hardening" the trails so that they would require less future maintenance. Trail building is a rewarding way to support the cycling community, get exercise, and explore Michigan!
Coaching Confidence and Building Community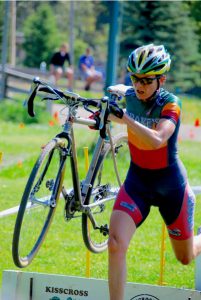 As a USA-Cycling Certified coach, Anne helps beginning cyclists build off-road skills and more experienced riders focus their training to accomplish specific goals. Her work often centers on the mental side of fitness and uses power meters to help her riders track their progress. An advocate for inclusion, Anne hopes to see the cycling community continue to grow and to help new riders experience the healthy mind-body benefits that cycling has to offer. She holds clinics for female cyclists and continues to greet riders of all ages, backgrounds, and abilities to the cycling community.
Anne's newest project is "Dirt School" – a skills park for kids and beginner riders to learn and improve their mountain bike skills on various surfaces and obstacles before heading out on singletrack trails. Planned for Burchfield Park, where more than ten miles of intermediate and advanced trails await riders, the Dirt School skill-building area will enable more riders to gain the confidence to hit the trails. 2020 brought many new faces to the cycling community, and Anne hopes to see them stay. We are excited to see this project come to fruition – who doesn't love to play in the dirt?
Anne Grofvert is a builder – whether it is confidence in her athletes, trails through the woods, or camaraderie and inclusion within Michigan's cycling community. She encourages everyone to find a life sport that they are passionate about, and if that sport is cycling – she is here to help!