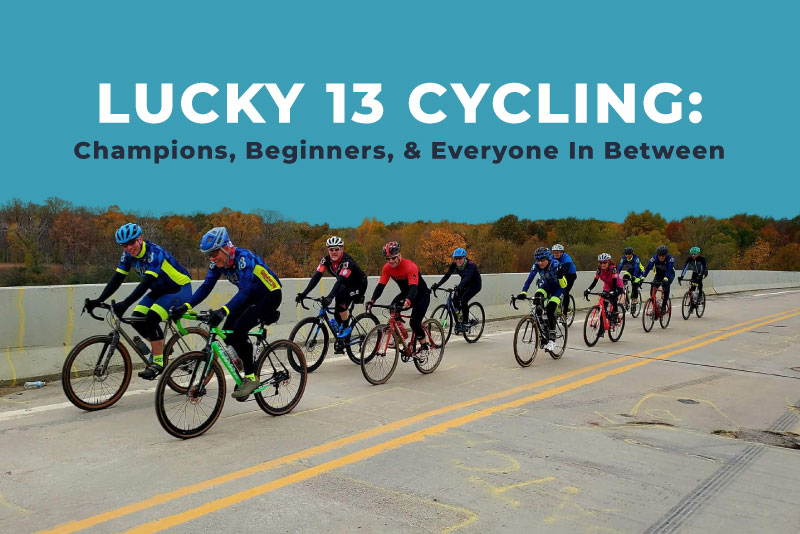 Nestled in the town of Milford, Michigan, near plenty of bike-friendly roadways, trails, and beautiful scenery is a small cycling club called Lucky 13 Cycling. This club of about 40 members is an all-inclusive group of cycling enthusiasts, beginner bicyclists, and racing champions that encourage each other through bike rides and races in Michigan.
The Beginning of Lucky 13 Cycling
Lucky 13 started when a husband-and-wife team opened a new bike shop, Vincere Cycles, in downtown Milford. This opened new possibilities for cyclists in the area and sparked the union of locals that enjoy a wide variety of cycling disciplines. While the shop is no longer open, the group has continued strong as active members of the Michigan cycling community.
Now, the group holds rides several times a week during bike seasons and the occasional fat bike ride during the winter months, and many members of the group can be found at just about any bike race on the calendar. Several members have even championed race series and state championships, yet they enjoy the camaraderie nature of the club and the opportunity to encourage others in the sport regardless of skill level or experience.
Connect with the Club
Lucky 13 is comprised of cyclists of all ages, skill levels, disciplines, and goals that enjoy encouraging one another through biking. New members of any background are always welcome to join the club and take part in this network of biking enthusiasts. If you are looking for a Southeast Michigan cycling club to join, find Lucky 13 Cycling on their Facebook page, send them an email, or connect with members at Michigan bike events!