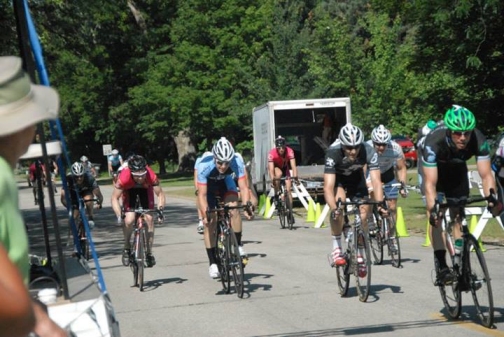 On July 14, 2013, the Michigan State Road Race Championship was held outside of Kalamazoo in Lawton, Michigan. The bicycle race was also the Third Annual Maple Hill Race for Wishes, sponsored by Maple Hill Auto Group, an event organized to benefit the Make-a-Wish Foundation of Michigan.
The bike race was a tremendous success. It proved to be a great course with large fields, with the Cat 4 men having approximately 80 cyclists compete. More importantly, over $7,000 was raised for the Make-a-Wish Foundation of Michigan.
A number of bike racers donated their prize money to the charity and should be recognized for their generosity. Jay Dore, a member of the CFT-Sinas Dramis Cycling Team, deserves credit for spearheading the idea to donate winnings back to the organization. At last year's race, Jay placed 3rd in the Cat 4 race and quietly donated his winnings at the end of the awards ceremony. This year, Jay finished 4th in the Cat 3 race and let the other money winners in the Cat 3 division know that he would again be donating his prize money.
Many of the other top finishers in the Cat 3 race quickly agreed to do the same. By the time the podium presentations were over 6 of the 8 Cat 3 men who earned prize money, donated their winnings back to the organization. Several of the Cat 3 women, and another CFT-Sinas Dramis Law teammate, Craig Newell, who finished 4th in the Masters 35 and over division, also donated their prize money.
Jay Dore is well known in the Michigan bicycle racing scene for his big (and sometimes foul) mouth, which has gotten him in trouble at times this season. However, his actions at the Maple Hills Race for Wishes, was an opportunity for the bike racing community to learn what many of us have known all along, Jay's heart is even bigger than his mouth!! The Sinas Dramis Law Firm is proud to have Jay as part of the CFT-Sinas Dramis Cycling Team.