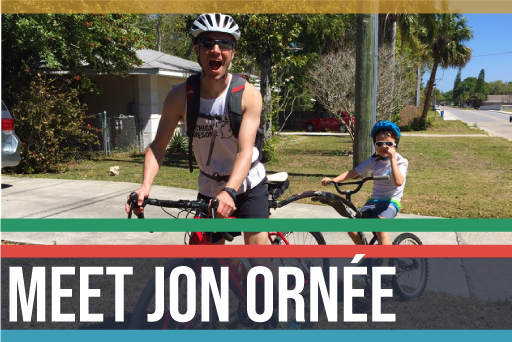 Jon Ornée is a cyclist, musician, health coach, wine label designer, triathlete and one of the most motivated people you will meet. He exudes positive energy and has chosen to do so in a way that motivates others to join him on a quest for a healthy and active lifestyle.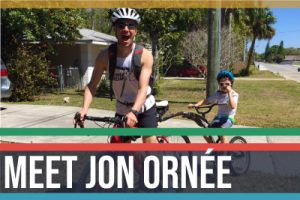 Jon created a program called "30 Days of Awesome," a free 30-day program that helps people explore better habits, such as better sleeping, eating, drinking, and moving, in order to feel more awesome.
Jon also shares his love of being active and exploring the outdoors through a campaign called "The Adventures of Mr. Michigan" with the support of his sponsor, Michigan Awesome, a company that celebrates Michigan state pride. As part of this mission, in 2019, Jon began training with the goal of breaking three world records: (1) Cycling speed record across the state, (2) first-ever swim to North Manitou Island, and (3)  a running relay from the southern border of Michigan to the northern border of Michigan in the upper peninsula.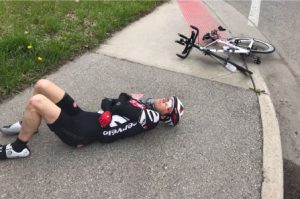 Bicycle Crash Threatens Cross-State Relay
Tragically, on May 16, 2019, during one of his training rides, Jon was struck by an SUV that made a left hand turn directly in his path when he was traveling at approximately 27 miles per hour.
As a result of Jon's bicycle crash, he suffered a fractured elbow that required surgery. All ordinary humans assumed this meant the world record attempts would have to be put on hold. But Jon isn't an ordinary human. He is superhuman! As soon as he was able, he began riding on his indoor trainer. He then got back in the pool and began swimming laps using only one arm!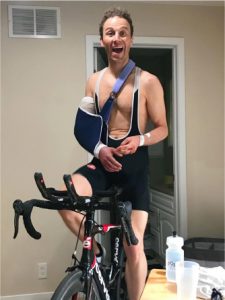 Mr. Michigan Sets Multiple World Records
Roughly four months after the crash, on September 20, 2019, Jon attempted the first world record. He swam 7.4 miles from Pyramid Point in Empire to North Manitou Island and was able to do so in only 2 hours and 50 minutes! But he wasn't done. Three days later, on September 23, 2019, Jon and four friends (Ben Blake, Nick DeHaan, Sean Murphy, and Jesse Gould) attempted the cycling record. They traveled across the entire state, from Muskegon to Port Sanilac, averaging 24.7 mph. They covered 206 miles in 8 hours and 17 minutes, breaking the previous record by 54 minutes!
Still, Jon wasn't done. He had one more record to break and decided he wanted to work in a significant twist into the running relay – he wanted to complete a marathon in under 2 hours! Jon created a public online registration sheet to see how many people he could get to run 200-meter legs toward a complete marathon. On October 27, 2019, 45 runners ranging in age from 8 to 55 got together at the West Ottawa High School track in Holland. Together they ran 210 legs for 200 meters each. Jon ran 26 of those legs, making sure he completed the first leg of each mile. In the end, the group averaged 4:11 per mile and their finishing marathon time was 1:49:32.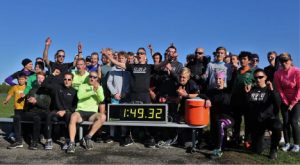 Jon's 2019 swimming, running, cycling achievements are clearly impressive. At Michigan Bike Law, we also have a strong bias toward cycling events and goals. However, the one accomplishment that best represents what we love about Jon is the sub-2 marathon. Not only did Jon set out to achieve an athletic goal, but he also brought others along for the ride and made them part of a fun event that inspires others to achieve fitness goals. In the end, it is people like Jon Ornée that make Michigan's cycling community so special.