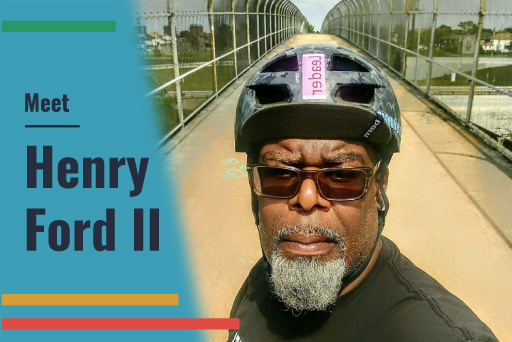 What does Henry Ford II do for the Michigan bicycle community? The better question is what doesn't Henry do? It is hard to imagine a person who spends more of their time contributing to Michigan's bicycle scene in a more positive way than Henry.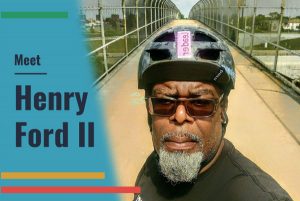 Henry in a nutshell;
Started and runs the weekly Palmer Park Ride based out of Palmer Park. The group leaves at 7:00 pm every Thursday night between April and October from the Palmer Park pool parking lot, located at 910 Merrill Plaisance St, Detroit, MI 48203. The ride typically attracts 75-100 cyclists and covers approximately 15-25 miles at a conversational pace (approximately 15mph).
Is a ride leader/hit squad member for the Detroit Slow Roll. Slow Roll leaves from a different location in Detroit each Monday nights from May through October. The rides typically cover approximately 10 miles at a "slow roll" (8-10 mph).
Hosts the Detroit By-Cycle Podcast with Bobby Brown II and Bruno. The podcast interviews a different personality each week and focuses on bikes and food in the Motor City.
leads bicycle tours for Wheelhouse Detroit located at 1340 Atwater Street, Detroit, MI 48207. (Check out Bryan Waldman's episode on Michigan's bike laws.)
Sits on the board of the League of Michigan Bicyclists.
Is a member of Bikes & Murder (it isn't what it sounds like – it is a social club that rides bikes and plays video games, including Call of Duty. No real people are murdered.)
Henry's full-time job is also important to Michigan's bike culture. Henry works at Detroit Bikes, the largest bicycle frame manufacturer in the United States. He began working at Detroit Bikes in 2014, which means he was there when they were fabricating their first prototype and when the first bicycle came off the Detroit Bike's assembly line. For more about what motivated Henry to ride bikes as an adult and his work at Detroit Bikes, watch this awesome video. It is worth it just to hear Henry's deep, smooth voice narrate the video!
Thank you, Henry Ford II, for all you do for the Detroit and Michigan bicycle communities!