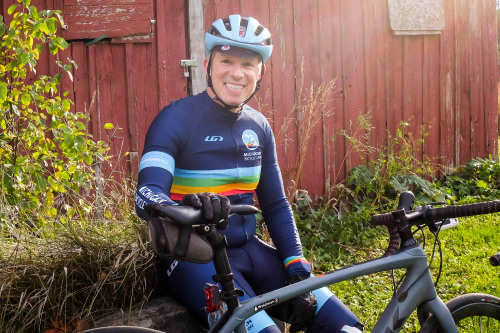 Michigan Bicycle Law attorney Bryan Waldman was spotlighted in an August 1, 2016, ABA Journal article about the confusion that exists surrounding the rules of the road for cyclists.
The article, titled "Widespread confusion over the rules of the road for bicyclists leads to clashes", profiled the current state of cycling in cities across the United States.
The story prominently featured Waldman and his representation of cyclist Tim Panagis, who was issued a $200 impeding traffic ticket in 2015 while on a Sunday morning bike ride. Panagis, an avid cyclist who knows the rules of the road, was convinced the state trooper who wrote the ticket didn't fully understand the laws. That's when he brought Waldman on board to represent him … and fight the citation.
The legal challenge drew national attention. Of particular interest was the state trooper's dash-cam video, which was viewed more than 200,000 times online and showed the officer calling Panagis a "smart aleck."
Referring to the Panagis case, the ABA Journal article says:
"'When I first saw the video, I assumed the prosecutor would just dismiss the case,' says Bryan Waldman of the Sinas Dramis Law Firm, a Lansing, Michigan-based bicycle attorney who represented Panagis.

A Livingston County District court judge found Panagis guilty but he went on to appeal the ruling to the Livingston County Circuit Court. The judge there wondered aloud why anyone would appeal a civil infraction and called the appellate brief on the case 'a $10,000 brief for a $200 ticket.'

In the end, the judge found in Panagis' favor and ordered the case dismissed with prejudice. The cyclist's takeaway: 'Know the rules of the road, respect them and be nice.'"
The ABA Journal article called Panagis's legal fight a "cause célèbre" in the cycling world and an example of the growing frustration over often-misunderstood cycling laws. According to the article:
"Cycling enthusiasts say that such traffic citations spring from officers' misunderstandings about how rules of the road apply to those on bikes. Friction can also occur if cyclists are forced to navigate roads not designed to accommodate them. And then there are drivers who accuse cyclists of riding recklessly, hotdogging in traffic, and forcing motorists and pedestrians to maneuver to avoid collisions.

These kinds of clashes are likely to intensify. More cities are embracing bike-share programs, thus adding riders to the roads. And the country's largest cities have seen the percentage of cycle commuters increase 71 percent from 2007 to 2013, according to the Alliance for Biking & Walking. There are more cars on the road too: The auto industry research firm IHS Automotive reported light vehicle registrations hit a record 258 million last year."
In addition, the ABA Journal story featured attorneys Peter Wilborn of Charleston, South Carolina, and Bruce Hagen, of Decatur, Georgia. The article says:
"'The increase in cyclists is truly cultural — with bike messengers and hipsters leading the way,' Wilborn says. 'The increase in cyclists has left everyone else playing catch-up.'"