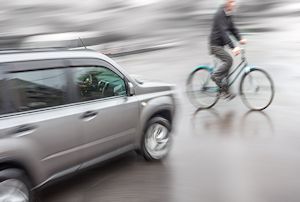 Michigan bicyclist deaths increased 15 percent in 2016, according to a new traffic crash report from the Michigan Office of Highway Safety Planning.
In 2016, there were 38 Michigan bicyclist deaths. This number is up from 33 fatalities in 2015 and 21 fatalities in 2014.
2016 Michigan Bicyclist Deaths
Last year's numbers included the Kalamazoo bicycling tragedy, in which five cyclists were killed on June 7, 2016, when their group ride was struck from behind by a pickup truck. Four other cyclists were also injured that day. The driver of the truck has been charged with numerous crimes, including operating a vehicle under the influence of a controlled substance.
The 2016 number of Michigan bike accident fatalities also includes:
June 11:       A cyclist was struck and killed while participating in an organized ride in Eaton County.
June 24:       A cyclist was killed by a hit-and-run driver in northwest Detroit.
June 27:       A Detroit cyclist was killed by a hit-and-run vehicle.
July 7:          A 60-year old cyclist was struck by a car and killed in Macomb Township.
July 26:        Eric Snider, a former elite master's racer, was struck and killed while commuting to work in Clinton County.
August 7:     A cyclist was killed while riding on the shoulder of US-31 in Emmet County.
August 17:   Charles Driggers, a 66-year old triathlete, was killed while training for the Ironman Triathlon when he was struck from behind by a hit-and-run driver (who was later found, arrested and charged).
August 26:   Karen McKeachie, a world champion triathlete, was killed by a truck that crossed the center line in Washtenaw County.
October 3:    A cyclist was killed by a hit-and-run vehicle in Hazel Park.
October 7:    Two cyclists were killed by a driver who struck them from behind in Jackson County.
October 24:   A 19-year-old cyclist was killed when hit by a passing vehicle in Lenawee County.
November 3:  A 17-year-old cyclist died when hit by a city bus in Kalamazoo.

November 3:  A cyclist was killed when hit by a car in Ottawa County.
November 5:  A cyclist was killed by hit-and-run driver in Macomb Township.
Preventing Bicycle Deaths In Michigan
The growing number of Michigan bicyclist deaths is unacceptable and Bike Law Michigan believes it is time to find real solutions to the problem.
One way to find answers is through the League of Michigan Bicyclists (LMB), which works year-round to advance a legislative agenda aimed at protecting bicyclists.
You can be part of the effort to reduce Michigan bicyclist deaths and injuries by attending the Lucinda Means Bicycle Advocacy Day on Wednesday, May 24, 2017. This year's legislative priorities include (subject to change):
Gaining support from lawmakers for Senate Bill 123 and House Bill 4185, which seek to establish a statewide standard of 5 feet for safely passing a bicyclist on the road.
Gaining support for Senate Bill 124 and House Bill 4198, which would require a minimum of one hour of instruction pertaining to vulnerable roadway users, including bicyclists, as part of driver's education training.
Setting classifications for electric bicycles, or E-bikes, in order to clarify usage of trails and roadways.
Seeking sponsors for the reintroduction of House Bill 5717 of 2016, which would clarify the definition of an obstructed license plate to ensure that a bicycle rack or hitch-mounted device is not grounds for a traffic stop.
If you have questions about Bicycle Advocacy Day, contact John Lindenmayer at john@LMB.org.