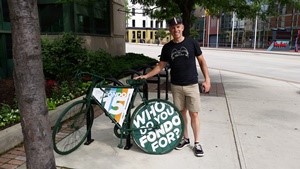 The MSU College of Human Medicine's Gran Fondo is Saturday, June 25, 2016, in Grand Rapids. Thousands of bike riders representing all ability levels will be on hand to participate in their choice of 80, 40, 25 or 12-mile routes.
For the second year, the Sinas Dramis Law Firm is proud to be the registration sponsor for the Gran Fondo, which aims to raise money for skin cancer awareness, prevention and research.
The Gran Fondo takes place on West Michigan open roads and all riders must obey traffic laws at all times. The route has narrow parts with blind corners and, therefore, participants should stay as far right as possible and ride with caution. Rest stops are set up about every 20 miles along the route.
The general rules of the road apply, including:
Wear a helmet
Obey the rules of the road 
Ride in a single file and as far to the right as possible
Do not cross the yellow or center line (even where there is no painted center line)
When passing another rider, make sure that rider knows you are there — never pass on the right
No headphones or ear buds
The event has a six-hour time limit, with the course being open from 8 a.m. to 2 p.m. with timing. So plan accordingly for all routes to be completed by 2 p.m. If you finish after 2:30 p.m., your

finish time will not be recorded. This year for the first time, the 80-mile return rest stop at Lake Michigan will have a timing strip, and timing will stop upon arrival and start again upon departure. Law enforcement will also be patrolling the entire course.
Cyclists are required to stage according to their ability to ride in a large group. All riders will depart the start line at one time and less experienced riders should position themselves toward the back of the group. Grand Fondo organizers encourage cyclists to make sure their equipment is in proper working condition before beginning the ride.
At the finish line on W. Fulton St. in downtown Grand Rapids, there will be a festival with live music, food and beverages, including Michigan craft beer and wine for those age 21 and older. The festival runs from 10 a.m. until 5 p.m. and is open to the public, spectators and Gran Fondo participants.
The Gran Fondo will take place rain or shine, unless the event is cancelled due to severe weather. For more information on the Gran Fondo, click here.