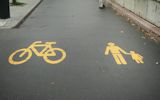 House Bill No. 4086 proposes to change a single word of the highway exception to governmental immunity in a manner that would limit the rights of pedestrians and cyclists.
Under Michigan law, citizens are barred from suing governmental entities for property damage or injuries sustained by a governmental entity's negligence, unless the governmental entity's negligent conduct falls within a narrowly drawn exception to the general rule that governmental entities are immune from liability. One recognized exception is what is commonly referred to as the "highway exception," which states:
Sec. 2.(1) Each governmental agency having jurisdiction over a highway shall maintain the highway in reasonable repair so that it is reasonably safe and convenient for public travel. A person who sustains bodily injury or damage to his or her property by reason of failure of a government agency to keep a highway under its jurisdiction in reasonable repair and in a condition reasonably safe and fit for travel may recover the damages suffered by him or her from the governmental agency . . . [Emphasis added]
Until 2000, confusion existed in Michigan jurisprudence as to whether this exception to governmental immunity applied to pedestrians and bicyclists. Michigan Court of Appeals panels reached inconsistent conclusions regarding this issue. However, on July 28, 2000, the Michigan Supreme Court, in the case of Nawrocki v Macomb County Road Commission, brought clarity to the issue. The Court held that the highway exception to governmental immunity applies not only to those injured or who sustained property damage while traveling in a motor vehicle, but also to pedestrians and cyclists. In doing so, the Court stated:
. . . The location of an alleged dangerous or defective condition, as narrowly defined in the fourth sentence of the statutory clause, is the critical factor in determining whether a plaintiff is successful in pleading an avoidance of governmental immunity under the highway exception. Moreover, given the Legislature's use of language in the statutory clause, we believe Gregg properly relied on the '[a]ny person' language of the statute's second sentence to hold that pedestrians are protected by the highway exception and that the words 'designed for vehicular travel' serve to define and describe the 'improved portion of the highway;' in other words, the location where the state and county road commissions' duty arises.
The Nawrocki Court went on to define the government entities' duty as follows:
The general description of the state's duty, with regard to the highway exception, is established by the first sentence of the statutory clause: each governmental agency having jurisdiction over any highway shall maintain the highway in reasonable repair so that it is reasonably safe and convenient for public travel.
Further, the Court concluded that "Because the state and county road commissions must 'repair and maintain' their respective highways and roads so that they are reasonably safe and convenient for public travel," and because we believe "public travel" encompasses both vehicular and pedestrian travel, the plain language of the highway exception cannot be construed to afford protection only when a dangerous or defective condition of the "improved portion of the highway designed for vehicular travel"affects vehicular travel.
House Bill 4086, which was introduced by Representative Jeff Farrington of Utica (District 30) on January 22, 2013, would amend the statute to replace the word "public" with "vehicular."
The proposed one word amendment to this statute would create confusion, similar to that which existed prior to the Supreme Court's ruling in Nawrocki. Government entities will certainly argue that the change eliminates a duty to maintain roadways for pedestrians and cyclists. Alternatively, it will be argued that, even if a duty exists to pedestrians and cyclists, the duty is only to ensure that roads are maintained in a reasonably safe manner for vehicles and that it is not necessary to maintain roads in a reasonably safe condition for pedestrians or cyclists. Indeed, it is not clear which of these interpretations is consistent with the intent of the bill sponsor.
Additionally, the bill sends a message to Michigan citizens and prospective citizens of the State of Michigan that our government has chosen to treat pedestrians and cyclists as second-class citizens who do not deserve the same protections under the laws as motorists. This legislation also flies in the face of our state's strong commitment to Complete Streets practices, which ensure that Michigan roadways are designed and maintained for safe travel by all users, regardless of travel mode.
In the last few years, the percentage of people commuting to work by foot or bicycle has increased dramatically, especially among recent college graduates, a demographic that is critical to attract and retain as citizens in this state. As a result of the adoption of Michigan's Complete Streets law in 2010, and the growing number of locally adopted Complete Streets policies since, this trend is bound to continue as more and more communities embrace active transportation options.
Further, in his recent State of the State address, Governor Snyder emphasized the importance of improving Michigan's infrastructure, stating:
"We need a modern transportation system that moves people and goods safely, reliably, and efficiently in order to increase productivity and our quality of life. We need a multi-modal system that will serve the movements of a new, more urban, more tech-savvy, and more active generation."
Unfortunately, if adopted, House Bill 4086 would serve as a tremendous step in the wrong direction in advancing Governor Snyder's proposal to improve the transportation system and quality of life for this country's "new, more urban, more tech-savvy, and more active generation."
Please help oppose House Bill 4086 by contacting your State Representative and/or Representative Kevin Cotter, Chair of the House Judiciary Committee, to request that House Bill 4086 not be taken up in Committee this session. You can contact Representative Cotter by phone at (517) 373-1789 or by email at KevinCotter@house.mi.gov