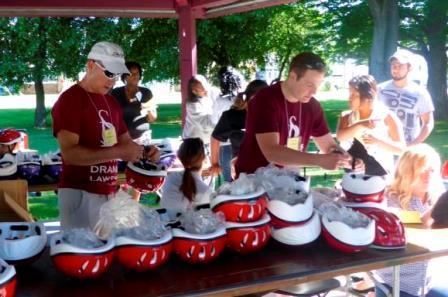 The Sinas Dramis Law Firm is partnering with a number of organizations to give away free bike helmets in Grand Rapids.
For the second year in a row, the Sinas Dramis Law Firm will be giving away free bicycle helmets in Grand Rapids! The Lids for Kids Bike Helmet Giveaway and Safety Event will take place at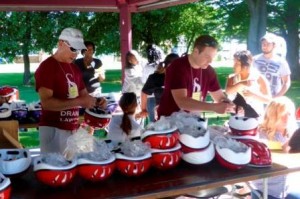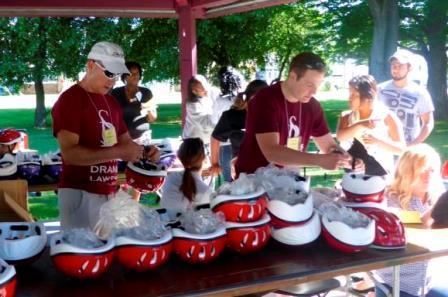 Garfield Park (Burton and Jefferson entrance) in Grand Rapids, Michigan on Saturday, May 30, 2015 from 10:00 am – 12:00 pm. Last year's event was a tremendous success, and we look forward to providing school-aged children in the Grand Rapids area with free, custom fitting bicycle helmets going into the summer months!
Our law office has demonstrated commitment to advocating for bicycle safety in Grand Rapids and throughout Michigan. As personal injury lawyers, we have seen instances where the failure to wear a bicycle helmet has resulted in severe head and brain injury, as well as cases where helmet use protected riders from those very same injuries. In keeping with our dedication to giving back to our communities, we are partnering with a number of local and state-wide organizations in order to make Lids for Kids possible, including the Brain Injury Association of Michigan and Hope Network Neuro Rehabilitation, in addition to Fox 17, Grand Rapids Public Schools, and the Grand Rapids Fire Department.
During the 2014 Lids for Kids event, we were able to fit over 400 children with free bike helmets, and we look forward to giving away even more at the end of the month! We will also have a number of bicycles and prizes to give away, thanks to generous local businesses. Central District Cyclery will be on hand to provide minor bike repairs. Grand Rapids firefighters will also be registering children for free bicycle licenses if they bring their bikes to the event, and will be giving tours of their fire engine.
We look forward to meeting more West Michigan families and sending more children off with properly-fitting bicycle helmets! Visit the official Lids for Kids website for additional information about the event. Please contact Tammy at 517-394-7500 with any questions or concerns.
See you there!
Update – May 27, 2015: A segment on our Lids for Kids bike helmet event was featured on Fox 17 in Grand Rapids: